Dr. Jacob Grapevine is a certified provider in Plano, Texas for Lumineers®, an alternative cosmetic dentistry treatment to porcelain veneers. Lumineers® are a revolutionary approach to achieving a beautiful smile. One of the most significant benefits of Lumineers is that they eliminate some of the concern about removing healthy tooth structure.
Porcelain veneers require the dentist to remove tooth structure, but Lumineers are more like a contact lens, bonded to the front teeth, and can be removed in the future if desired. Additional benefits to Lumineers include:
No adjustments to your teeth are required
Very esthetic and natural looking
Feels very comfortable, like natural teeth
Improves misshapen front teeth
Closes minor spaces between the teeth
Very resistant to staining long term
Very durable and lasting
Lumineers® vs. Porcelain Veneers vs. Cosmetic Bonding
Dr. Grapevine offers all three treatments in our cosmetic dentistry in Plano, TX. He works with patients on an individualized basis to recommend the option that is best suited to their needs and goals. While cosmetic bonding can provide a quick, economical option, dental veneers may be the right solution for a more lasting result that meets your aesthetic goals.
Lumineers are the only option where little or no tooth structure is ground down and are they are also very thin. Grinding down your teeth can be very painful causing anxiety in patients. There is little sensitivity and little discomfort after your Lumineers are attached to your teeth. They feel and look natural as soon as you walk out of our office!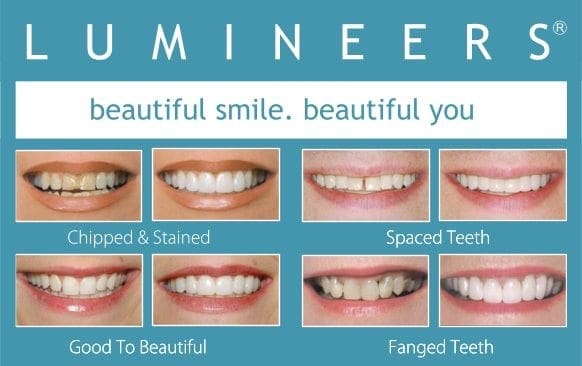 Learn more about Porcelain Veneers and Cosmetic Bonding by contacting our office. You can schedule a consultation with Dr. Grapevine to find out which treatment is right for you.
What To Expect: Lumineers®
Making over your smile with dental veneers requires only two visits with us. The entire process is generally pain-free and there is no downtime. The first visit lays the foundation for the final placement of your veneers and will include tooth preparation and dental impressions. Since Lumineers are as thin as contact lenses, Dr. Grapevine may not have to remove any tooth surface at all.
If tooth reduction is necessary, it will be minimal in order to secure your new veneers for a stable and comfortable fit. They are even sometimes referred to as "no preparation" or "minimal preparation" veneers. Temporary veneers may be placed while you wait for your custom Lumineers to be fabricated in a lab.
Once complete, your Lumineers will be permanently attached to the prepared teeth. We will set them in place with a curing light, and then polish them for a natural luster and smooth appearance.
Lumineers® are used to treat:
Worn-down teeth
Small teeth
Crooked teeth
Crowded teeth
Chipped teeth
Cracked teeth
Misshapen teeth
Teeth that are spaced out
Stained or discolored teeth
Lumineers® FAQs
Are Lumineers better than porcelain veneers?
This depends on the reason you are getting them. Lumineers® are a brand of dental veneers. They're often called no-prep veneers because it take much less dental work to apply them. They are typically best used to cover minor cosmetic issues, rather than restorative purposes. Lumineers can provide many years of healthy, beautiful smiles with routine dental care and good oral hygiene.
Are Lumineers permanent?
No. Lumineers are not a permanent treatment. They can be safely removed by your dentist without causing harm to your natural teeth. Your dentist can advise you on how best to care for your veneers so they last a long time before they need to be replaced. Lumineers do not last a lifetime, and are still susceptible to damage.
Can Lumineers protect your teeth from cavities?
No. Although they offer some protection from bacteria, they are not a viable option for cavity protection. The teeth under your veneers can still accumulate plaque and tartar. We can recommend other dental treatments to protect you from cavities. Dr.Grapevine can determine the best course for your unique dental needs. Give us a call today or request a dental exam online.