Cosmetic Bonding is a simple, fast and effective way to improve your smile. A popular procedure in cosmetic dentistry, bonding is an additive procedure for front and back teeth to enhance the smile and eliminate chips, cracks and stains. During the procedure, a composite dental resin is bonded onto the teeth and then sculpted for a natural, esthetic result.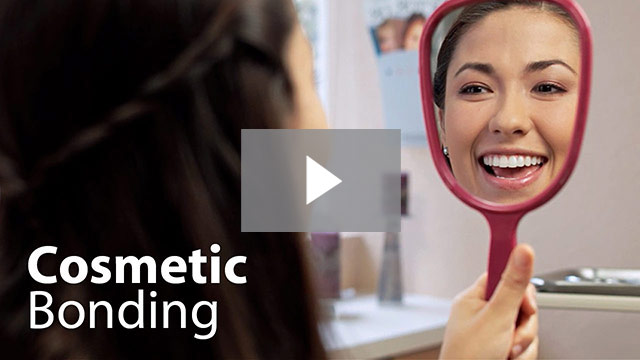 Featured Case: Cosmetic Bonding
This patient presented in our office with alignment issues. Dr. Grapevine used Smart Moves invisible braces to straighten the front teeth over the course of three months. Next, minor contouring was performed to accomplish an even bite and Dr. Grapevine placed esthetic tooth colored bonding on upper and lower front teeth to repair wear and establish even bite relationship.
What Is Involved With Tooth Bonding
Dr. Grapevine's artistic skill and expertise play a key component during tooth bonding procedures since the dental resin is sculpted by hand with out the use of molds or impressions. Dental resins come in a rainbow of tooth colored shades for a perfect match to your natural teeth. No one will notice that you've had bonding, but they will notice your beautiful smile.
Benefits of Cosmetic Dental Bonding
Natural, esthetic solution for chips, cracks, covering stains on teeth, wear, and other damage.
Relatively inexpensive procedure that is often covered by your dental insurance.
Completed most often in a single office visit.
With whitening performed before bonding, can brighten one's smile.
Although it does not last as long as porcelain, it does last an average of 5-10 years.
Comparison Porcelain Veneers vs. Lumineers and Cosmetic Bonding
Dr. Grapevine offers all three treatments to patients. Learn more about Porcelain Veneers and Lumineers and contact our office to find out which treatment is right for you.
Porcelain Veneers
Lumineers
Cosmetic Bonding
Preparation
Minimal amount of natural tooth structure is removed to accommodate veneers.
No natural tooth is removed, slight etching is done to ensure a strong bond and tight fit.
No natural tooth is removed, general cleaning is suggested prior to treatment.
# Visits
Required
2 – 3
2
1
Material
Porcelain
Porcelain
Resin
Durability
Very durable, with proper care and maintenance, porcelain veneers can last for decades.
Very durable, with proper care and maintenance, lumineers can last for decades.
Though not as durable as porcelain, cosmetic bonding can last an average of 5 – 10 years.
Esthetics
Very natural looking, virtually undetectable. Stain resistant, eliminates gaps in teeth, can add length and width to teeth and improve the appearance of misshapen teeth.
Very natural looking, virtually undetectable, stain resistant. Lumineers can improve misshapen front teeth and close minor spaces between teeth.
Natural looking solution to correct chips and cracks, cover stains, and repair other damage. When combined with teeth whitening, cosmetic bonding can brighten one's smile.
Cost
$$$
$$
$